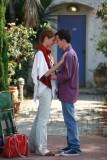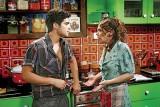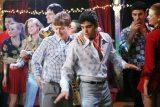 ---
A Film by Reshef Levy
(Israel, 2008, 103 Minutes, Color, Hebrew, English subtitles, cast: Michael Moshonov, Oshri Cohen, Yuval Sharf, Shmil Ben-Ari and Ofer Shechter)




The Levys are a happy, noisy, colorful, family of eight people living in a small town in Israel in 1980. The father, a contractor by trade, is obsessed by his garden where he grows the cacti he finds in the area. He continuously preaches to his children about the importance of fulfilling ones' dreams. A person without a dream, according to the father, is a dead person. The mother bustles around with pots and pans full of food and teaches her children her one important principle – total family loyalty. The family must protect one another at any cost.
This ideal life is shattered when both the twin brothers fall in love with the new girl in town who arrives on an intoxicating cloud of American fragrances. Our hero, Erez, realizes how difficult it is to maintain family loyalty while pursuing his private dream.
Erez and his new love accidentally discover a family secret which changes everyone's lives forever. Tormented by the Pandor's Box he has opened, Erez tries to escape by stealing his twin brother's dream – he joins the army's commando unit. He leaves his brother at home to take care of the broken family - and have an affair with
Erez's true love.

What is the worth of the lives of those who do not pursue their dreams?



AWARDS & FESTIVALS


Award of the Israeli Film Academy - Best Actor Michael Moshonov, Best Supporting Actor Shmil Ben Ari, Best Costume Design Rona Doron, Best Music Asaf Amdurski

Rome International Film Festival

Monte-Carlo Film Festival de la Comédie

Santa Barbara International Film Festival

NJ Israeli Film Series

Philiadelphia Israeli Film Festival

Pittsburgh Jewish Israeli Film Festival

Cherry Hill Jewish Film Festival

The National Center for Jewish Film

Toronto Jewish Film Festival

Dallas Jewish Film Festival

Film IsReal, Netherlands

Israeli Film Festival Brazil

European Film Festival Palic

San Francisco Jewish Film Festival

São Paulo Jewish Film Festival

Rio Jewish Film Festival

Australia Israel Cultural Exchange

Zurich Film Festival

The JCC in Manhattan

Chicago Festival of Israeli Cinema

Silicon Valley Jewish Film Festival

Palm Beach Jewish Film Festival

Washington Jewish Film Festival

Atlanta Jewish Film Festival

Denver Jewish Film Festival

Zagreb Jewish Film Festival

San Antonio Jewish Film Festival

Athens Jewish Film Festival

JCC Greater Vancouver

North Miami Beach JCC

Harrisburg Jewish Film Festival

Winnipeg Jewish Film Festival

Central Florida Jewish Film Festival

North Virginia Jewish Film Festival

CINEMAVIV 2 - Israeli Film Festival Berlin

Adat Shalom Reconstructionist Congregation

Austin JFF

Baltimore JFF

Budapest JFF

Delaware Jewish Fed

Detroit JFF

Colombia Israeli FF

Houston JCC

Israeli consulate Mumbai

Israeli Embassy in Riga, Latvia

Israeli Embassy, Nairobi

JCC of Staten Island

Louisville KY JFF

Mexico JFF

Moscow Israeli FF

Oakton College

Panama Israeli FF

Quito Israeli FF

Singapore Israeli FF

St. Louis JFF

Fairfield County CT

Wellington Israeli FF

Budapest Israeli FF



Price Valid for DVD screening only
Please inquire for 35 mm fees

Not available for all German speaking territories, i.e. Germany, Austria, Liechtenstein, Alto Adige, German speaking Switzerland, German speaking Luxembourg.